SENIOR Class REMINDER: Class of 2022 is sporting kid-sized backpacks tomorrow for the PanthersWith❤️ school-supply drive. Empty or filled with stuff…all is welcome! Group pic with packs will be taken! #seniorsunrise #palmyraproud #palmyraproud2022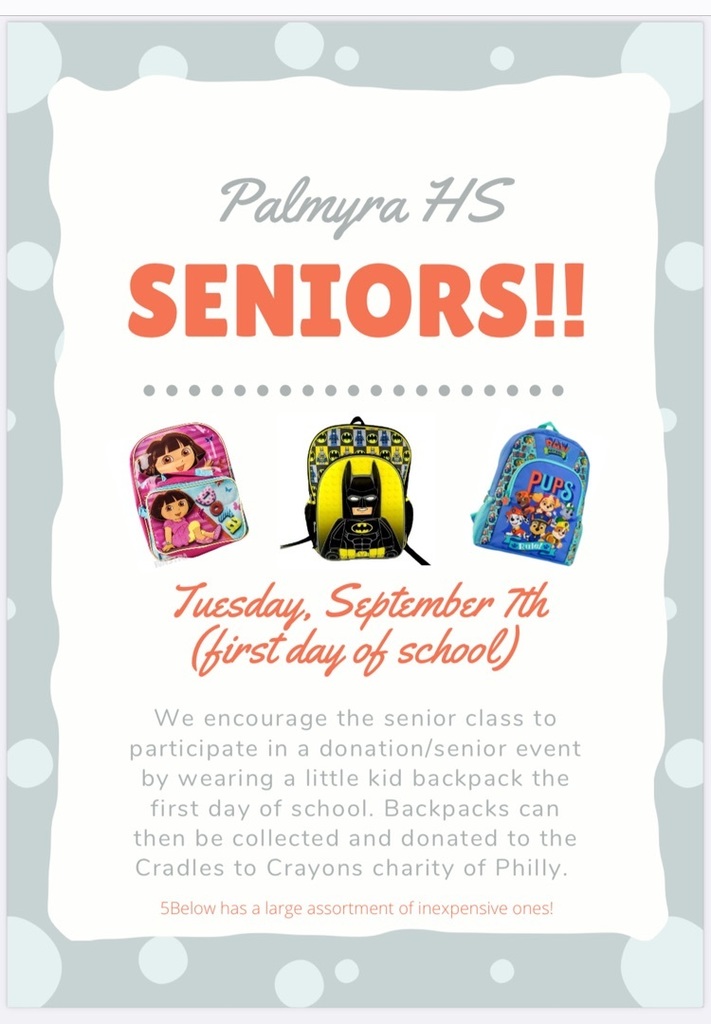 Dr. McBride's Welcome Back to the School District Letter: Please see our District Website >red SUPERINTENDENT button for the letter and important links. #PalmyraProud

WELCOME BACK TEACHERS & STAFF! We are #PalmyraProud of our school family! They are back in their seats for professional development & getting ready for next week's big return! #beamarigold #47yearsproud #livehereworkhere #mrandmrsmac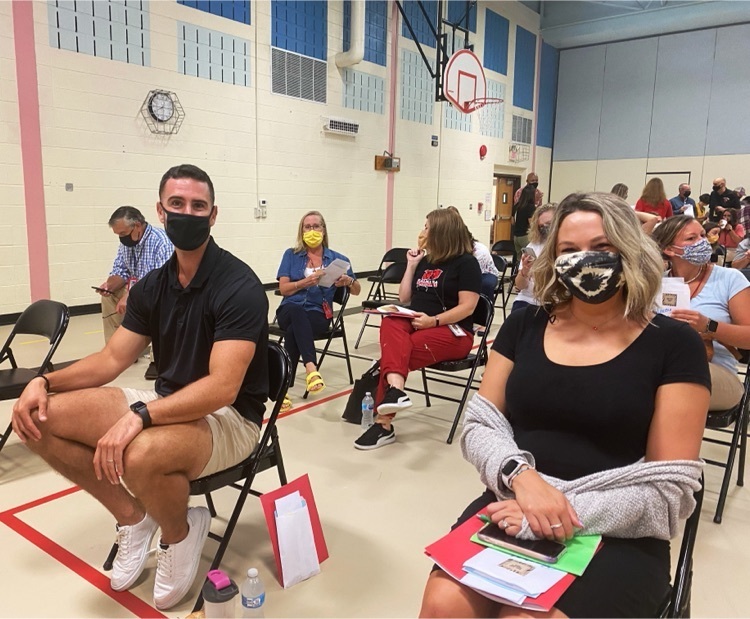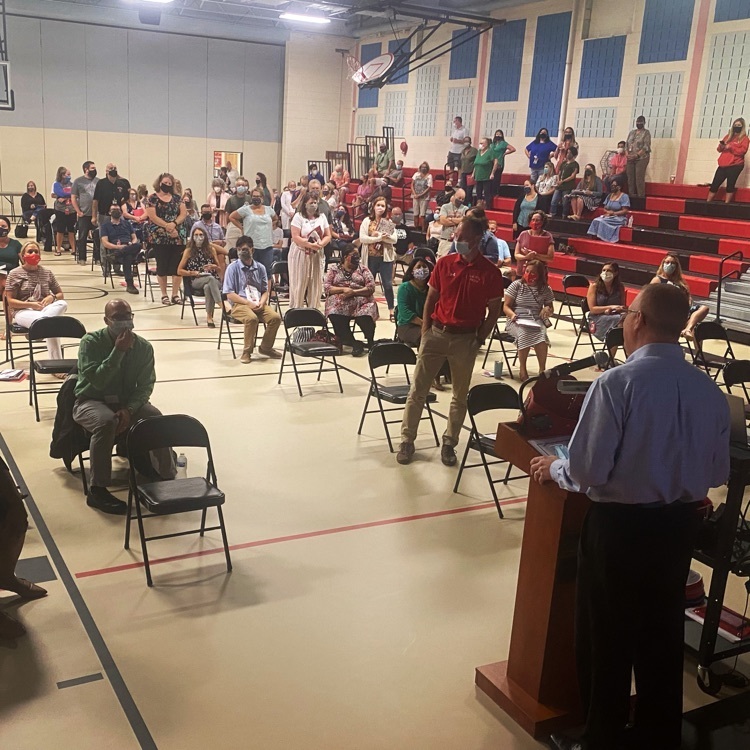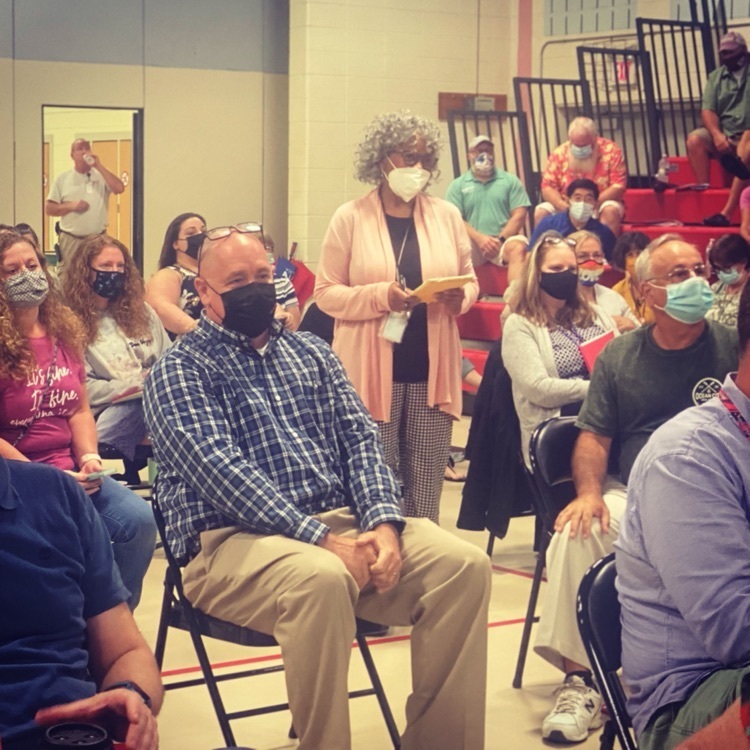 The Superintendent wishes to welcome our New District Staff & wishes to congratulate Ms. Saia for another creative & energizing New Hire Orientation held this week! We are excited to share more about all of our new team members over the coming weeks! #PalmyraProud #Seedlings2021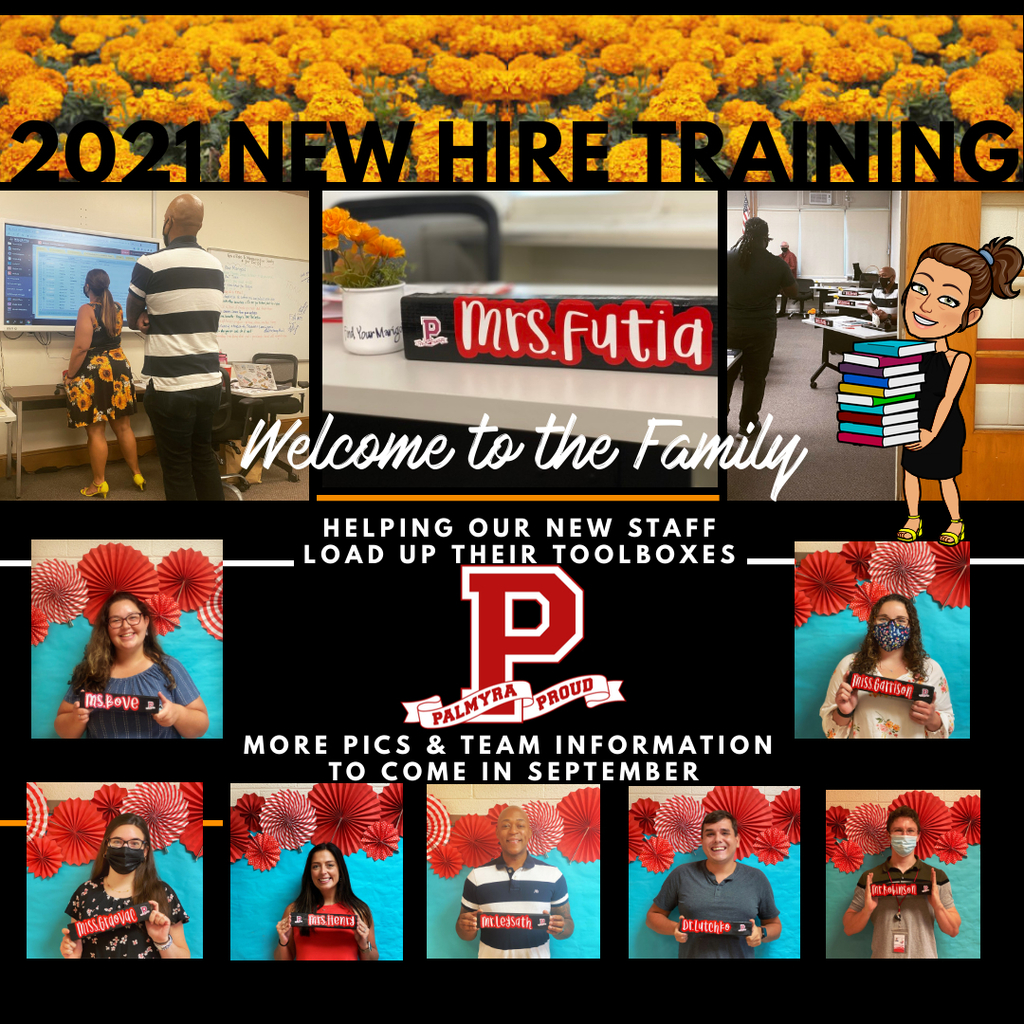 INCOMING 6th GRADERS-class of 2028- REMINDER: Today, August 26th @11-12:30pm is your MIDDLE SCHOOL ORIENTATION! Just you in the building-big chance to get a peek before school starts! Enter through Door #1 on the 5th Street Side (5th Street is closed to cars) #PalmyraProud2028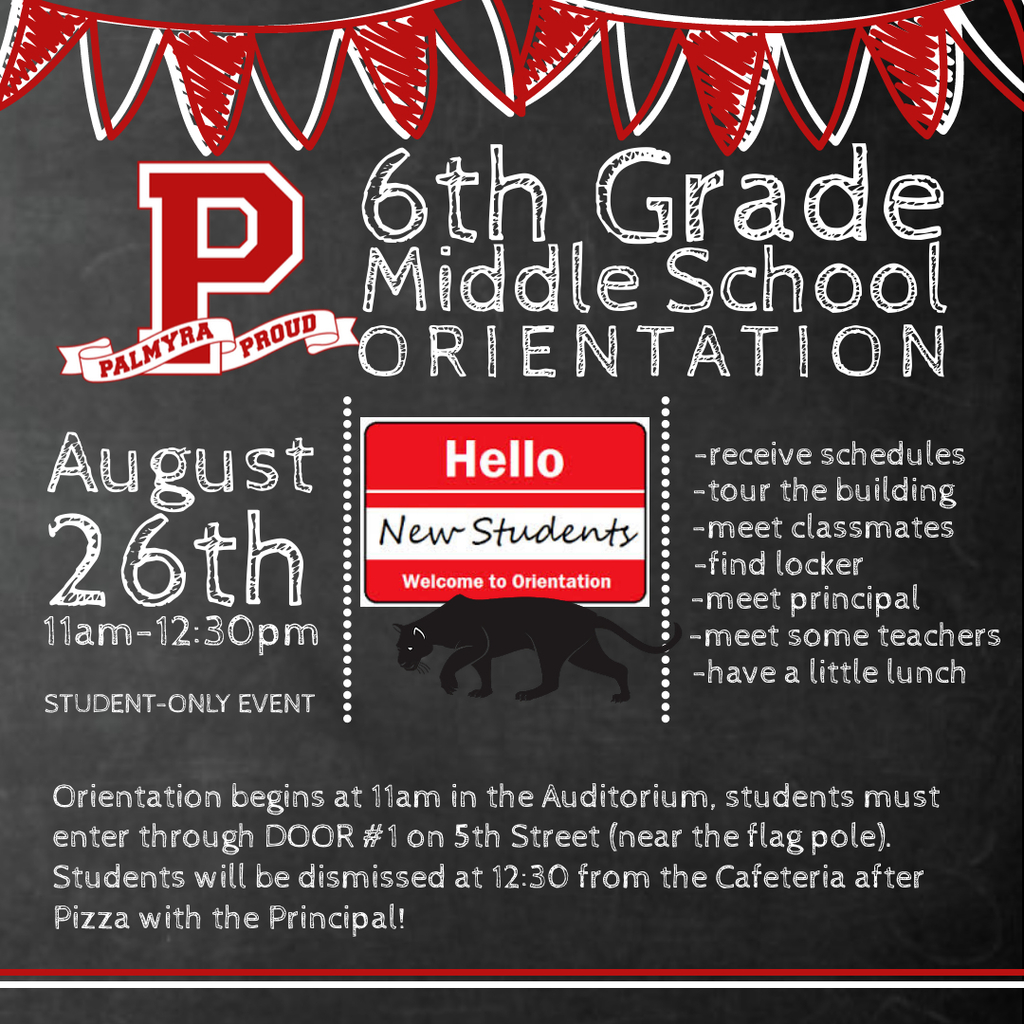 PHS FRESHMAN-class of 2025- REMINDER: Tuesday, August 24th from 11-12:30pm is your PHS ORIENTATION! It's just you in the building- this is your opportunity to get a peek before the school year starts! Enter through Door #1 on the 5th Street Side. #PalmyraProud2025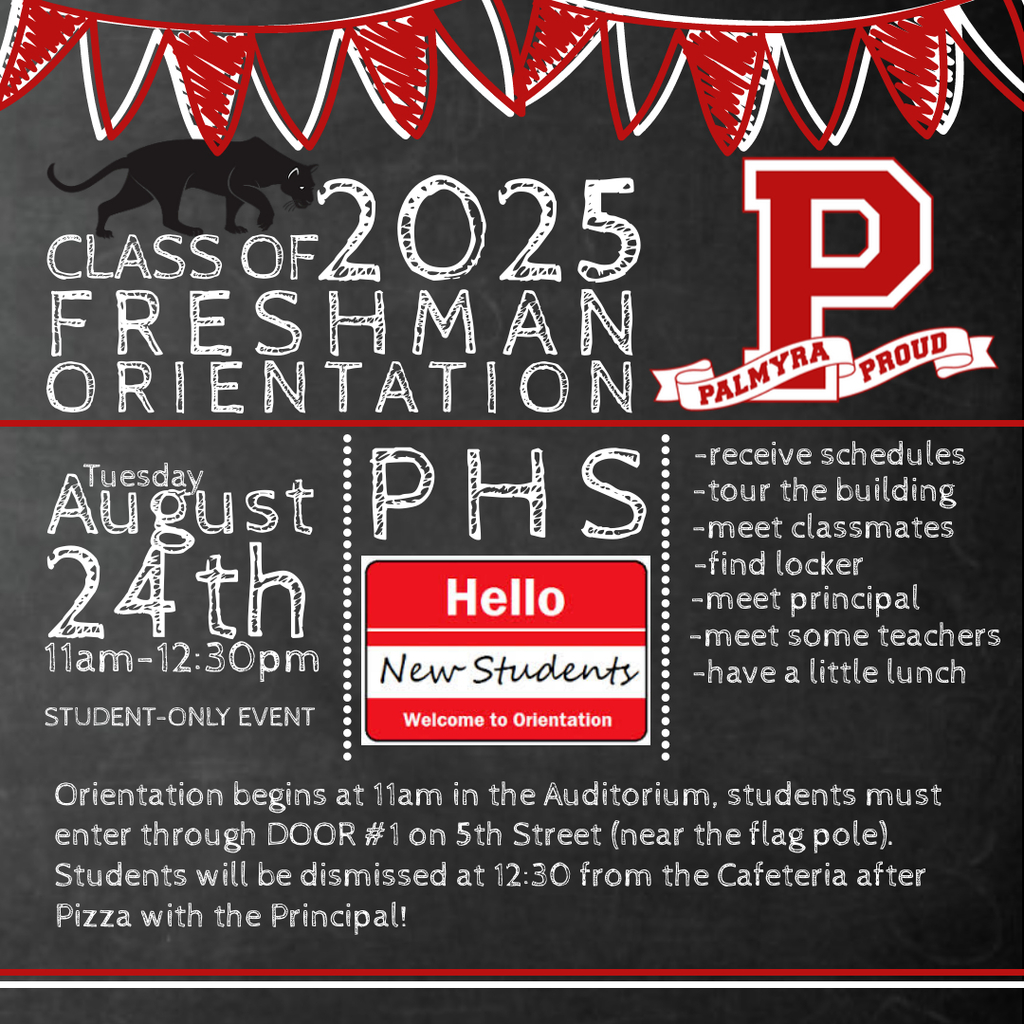 CSS PARENT REMINDER: Our New Principal, Mrs. Octavia Lee, is hosting a MEET & GREET on Tuesday August 24th from 10-11am for any Parent that can stop by in the CSS GYM. Please use Walnut Street Doors (door 9)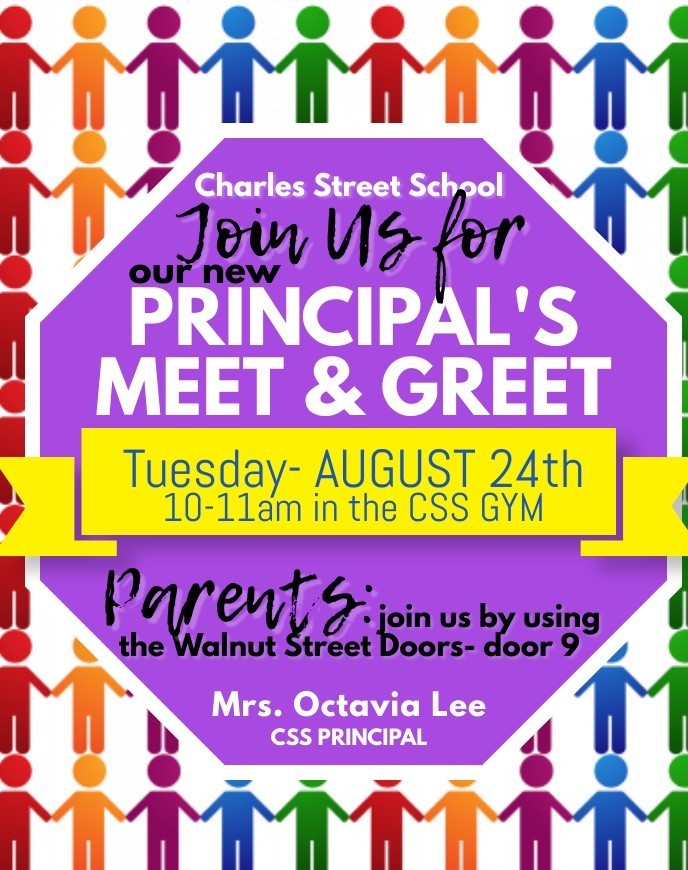 REMINDER to all those who came to our clinic on July 28th, NOW Wednesday, August 18th, the District hosts the return of our own Palmyra Pharmacy for the SECOND DOSE SHOT in the PHS Cafeteria. We are #PalmyraProud that EVERYONE able to get vaccinated is doing their part!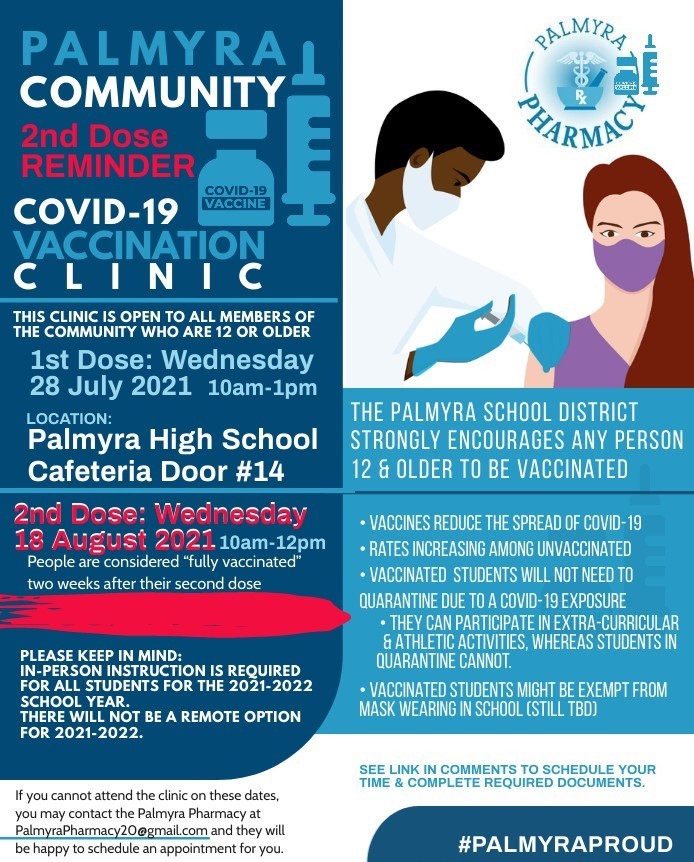 Sharing this next clinic for the community @ Epworth. #PalmyraProud #LetsGetBack

Palmyra High School welcomes the class of 2025! Freshman Orientation will be on Tuesday, August 24th from 11-12:30. This is the ideal time to get around the building, get your schedule & get a slice of pizza with the principal. We are #PalmyraProud to welcome you.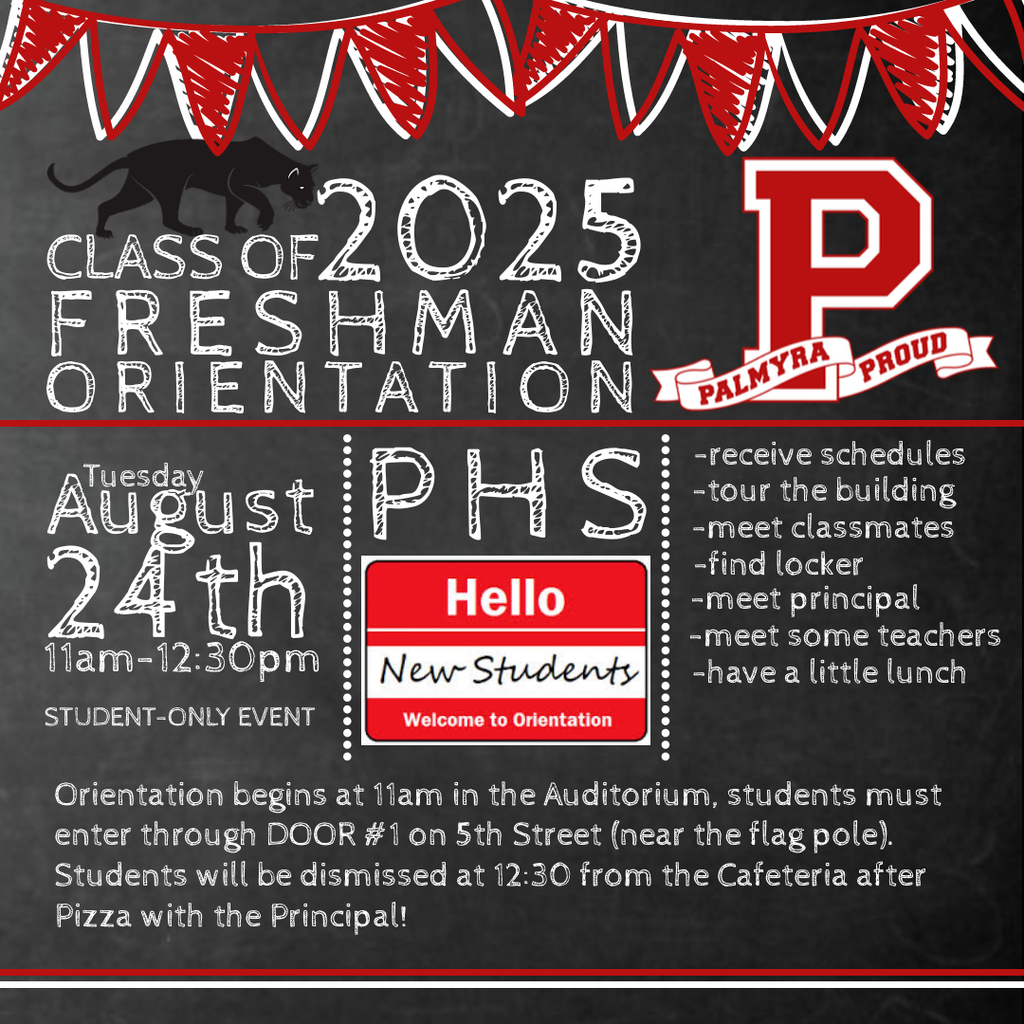 Hey Hey Hey!!! Orientation Day for Middle School is on its way! Thursday, August 26th at 11am. Mark your calendars & plan to send in your 6th graders to tour the building, find their locker & get their schedules. They will finish with Pizza with the Principal. #PalmyraProud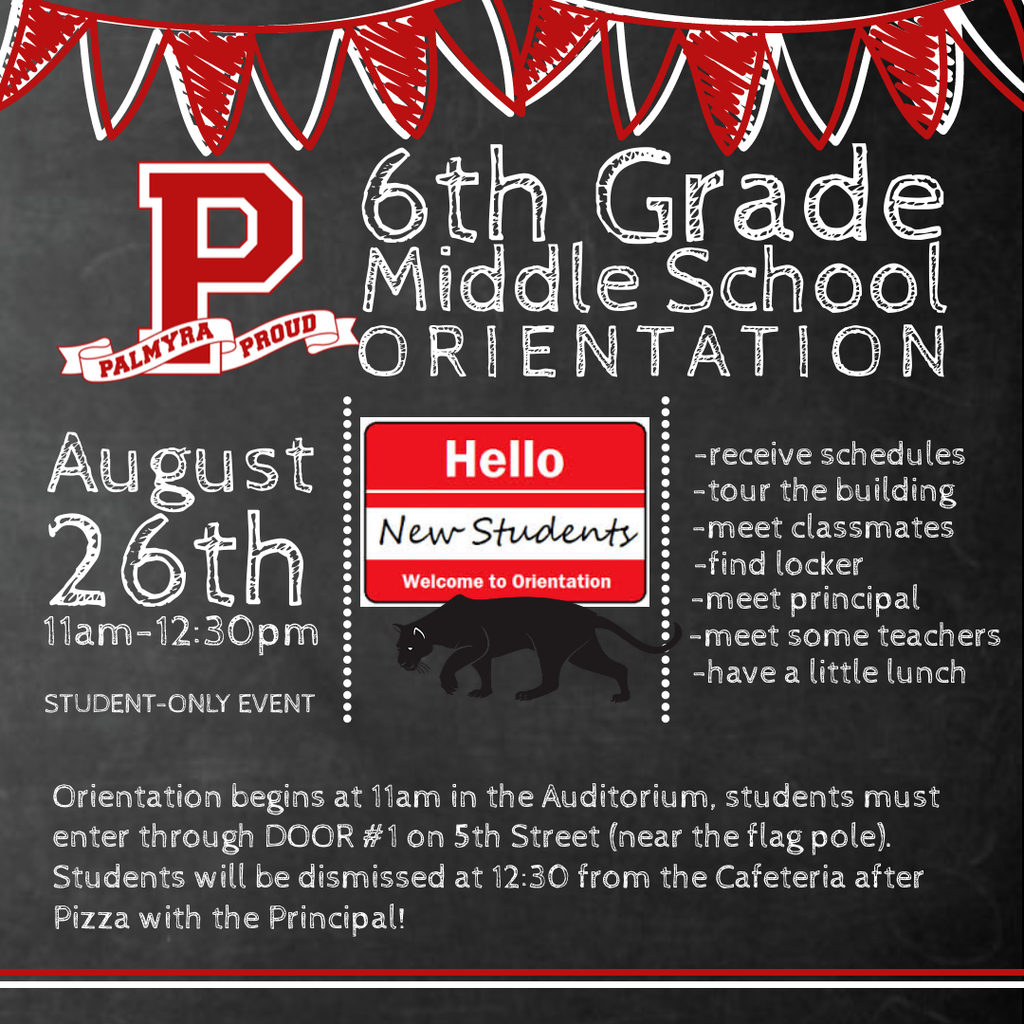 PALMYRA OPEN JOBS SPOTLIGHT: Seeking a MIDDLE/HIGH School Counselor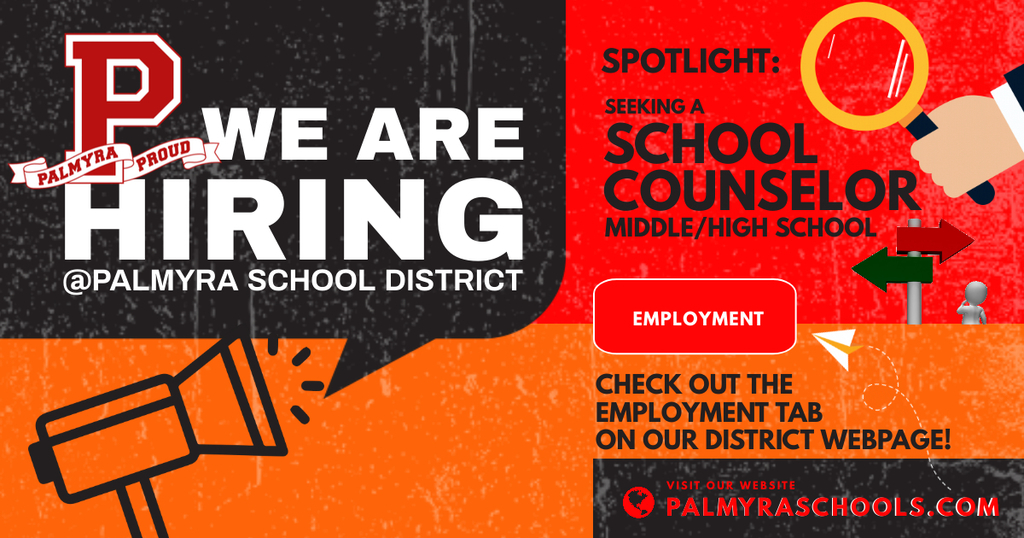 PALMYRA OPEN JOBS SPOTLIGHT: Seeking a K-5 Elementary Teacher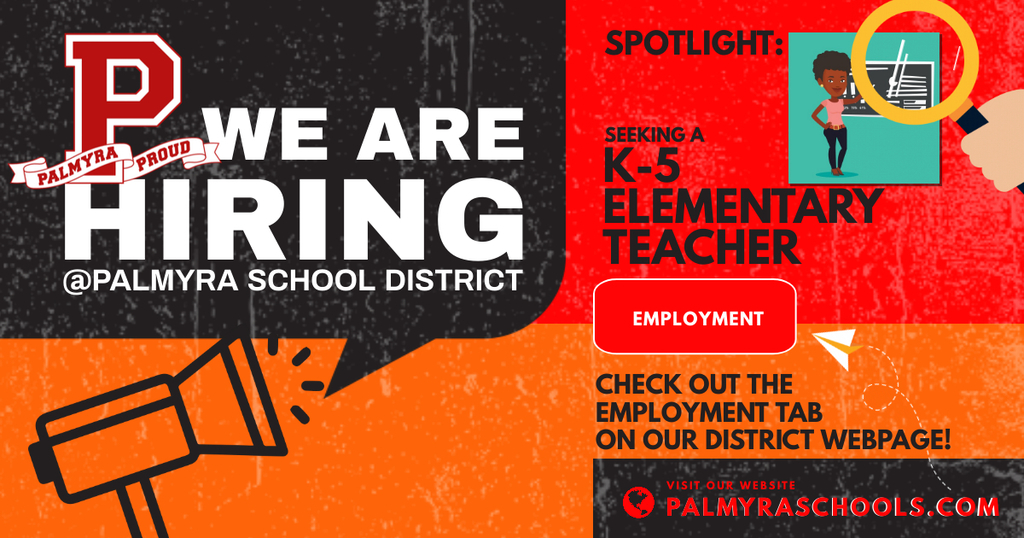 The August Monthly Meeting of the Palmyra Board of Education will be August 25th-In-Person at the Delaware Avenue Building-301 Delaware Avenue- 7pm. Meeting will be broadcast via Facebook & will appear on the Board of Education Live Meetings page of the website. #PalmyraProud

PALMYRA SCHOOL DISTRICT NEEDS YOU! We have employment opportunities open & listed on our website. Take a look & share with anyone you know that would be qualified. Let them know you are #PalmyraProud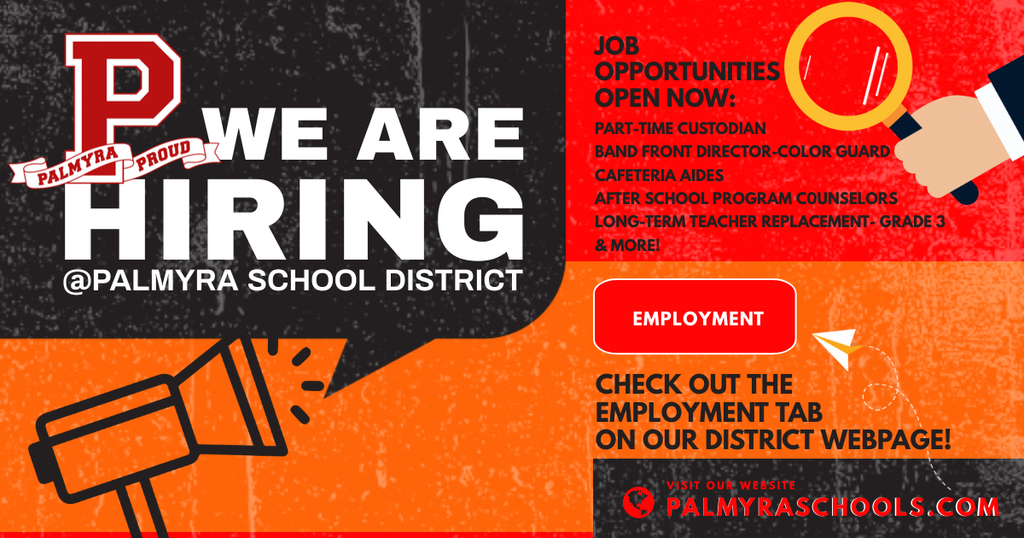 NATIONAL NIGHT OUT-an annual community-building campaign promoting police-community partnerships & neighborhood camaraderie. Palmyra Police Dept. welcomes everyone to join them & the Palmyra Fire Co. at Boro Hall: 5-8 tonite. Come meet all the new team & show our #PalmyraPride!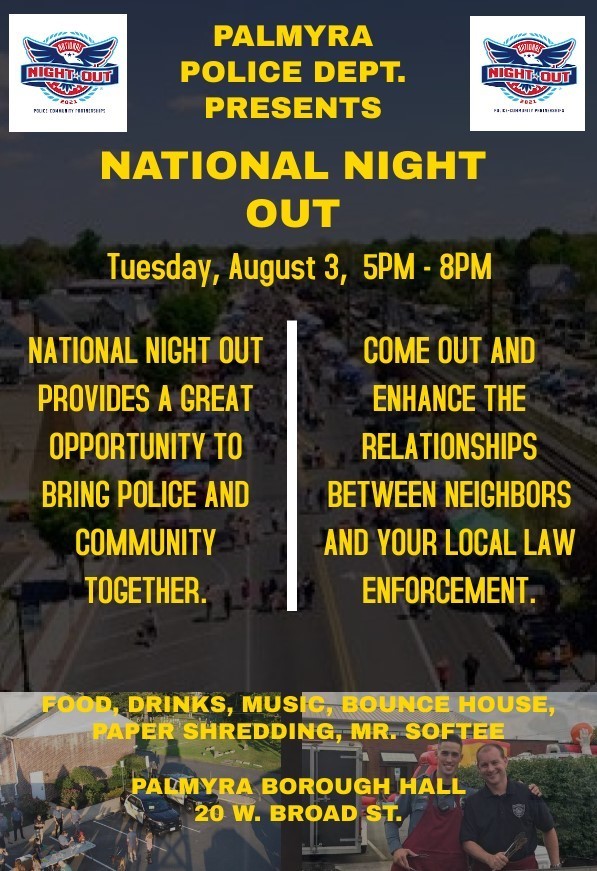 ATTENTION CLASS OF 2022: This Senior Handbook note is remind you to check your emails! Be on the lookout for an email from LORS PHOTOGRAPHY, regarding the sessions that are taking place in late August by appointment. Can't wait to see those cap & gown shots! #PalmyraProud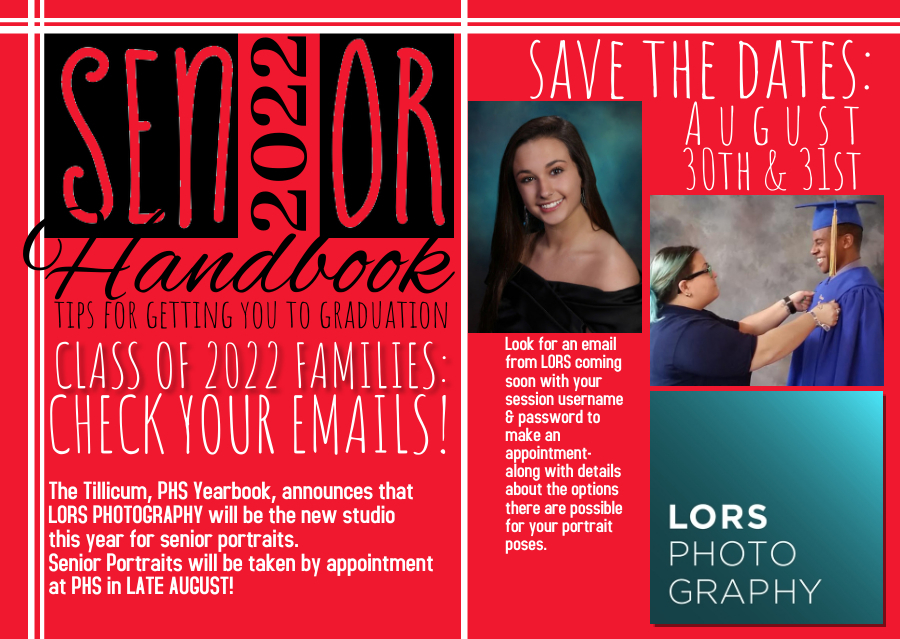 The Panther has been busy prowling for more summer ideas from your teachers to mix-up your summer learning fun! Update #2 is listed under each grade level on the CSS Summer Learning Page. #PalmyraSummer #marshmallowgeometry #snailraces #twistermath #notboredwithboardgames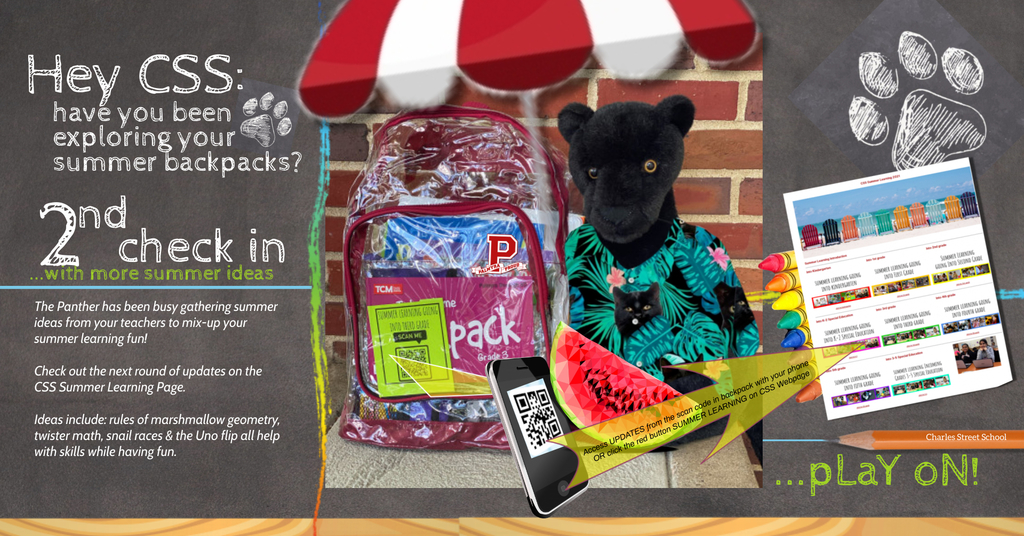 LOCATIONS offering COVID-19 Vaccinations in time for school starting. In addition to this list, Palmyra Hometown Pharmacy has vaccination appointments listed daily on their website. #letsgetback #PalmyraProud