The Palmyra Board of Education has been awarded aid through New Jersey's Department of Education (DOE) Preschool Education Aid Package!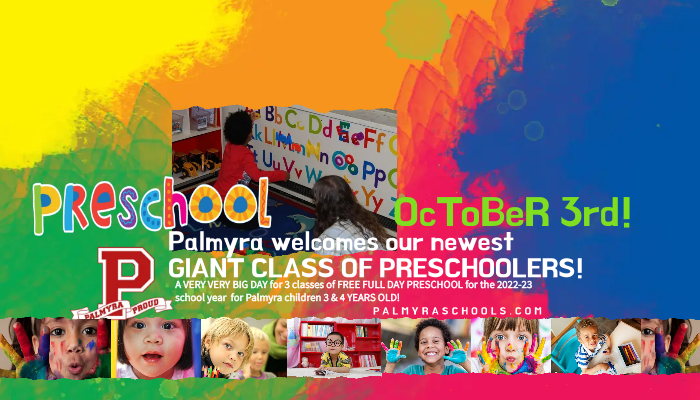 Upcoming Events for Our NEW Preschooler Families
Preschool BACKPACK
The BACKPACK is a place on our website where school places important virtual information for families to view.
Preschool Lottery selection was done at 9am on September 15th.
There are a limited number of seats for the 2022-2023 school year. By order of lottery selection, parents will be notified if their child has been accepted into the program or has been placed on the waitlist. Notification will be made on September 16th.
Early next week more info will be available.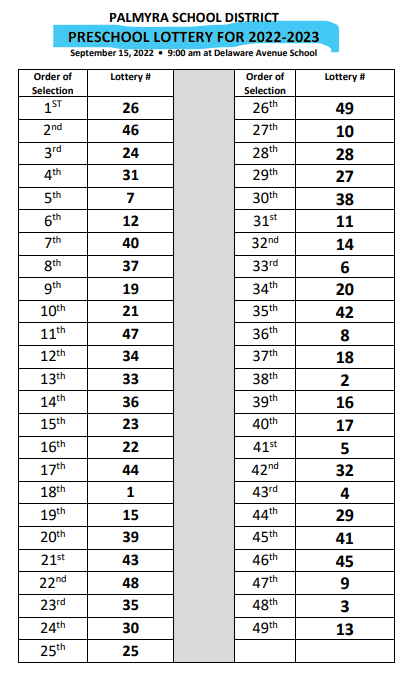 Your notification letter will indicate if you have been accepted into the program or placed on the waiting list.

Families placed on the Waiting List
Thank you for your interest in our expanding preschool.
Your names have been held aside should a space become available.
Families selected for Preschool
Preschool will begin October 3rd.
Please see below for instructions for the next steps necessary to maintain your status as a Preschool selected student.
District Registration is your next step!
Our District Registrar is
Ms. Kim Allen
kallen@palmyra.k12.nj.us
856-786-9300 x1000
Our registrar is directing you to follow steps 1-4 to get your child all set for Palmyra Preschool:

Due to the unusual nature of this year's registration timing, please be aware that an appointment is MANDATORY-no walk-ins will be taken for Preschool Registration.
Full and accurate registrations MUST BE COMPLETED by September 23rd in order to maintain your Preschool Selection Status.

We will have 3 full-time integrated classrooms for three and four-year-old students! The Palmyra School District's vision is to create a preschool program where children are encouraged to learn and grow by providing a foundation of developmentally appropriate experiences in a safe and nurturing environment. It is our belief that each child is a unique individual and that all children can learn.
Our established, 30 year preschool program will continue to provide an inclusive setting that recognizes children's varied abilities, interests, needs, and learning styles. Our preschoolers experience a variety of early reading and math concepts, language development, fine and gross motor skills, related arts and social skills.
Palmyra School District's integrated preschool program has been designed to promote a comprehensive and equitable environment by bringing together children of all social, demographic, and economic backgrounds into a collaborative classroom setting.